October 18th, 2017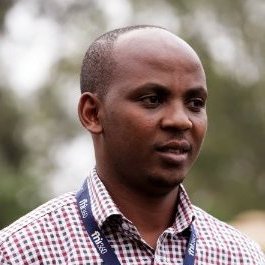 For Ildephonse Bikino (bikilde) of Rwanda, it was supposed to be an uneventful Drupal Global Training Day call-out; he expected 50 people but he got 388!
Bikino began working to get local interest in Drupal, sharing information by creating a simple website and posting information about the trainings on groups.drupal.org and sharing it locally.
Hoping to reach the room capacity of 50 people, the registrations came flowing in.
"The venue, which is kLab, where I was expecting to run my first training, they only accommodate 50 people. And the channel I used to announce the training, I was not expecting too many people attending, but people …shared my communication to different channels and in so many different ways. I was surprised to get more than 388 applications."
How do you deal with the logistics of training 388 people? That's hard! Bikino was committed to the challenge. One session became eight over a number of weekends. Bikino made sure everyone got the opportunity to attend!
Discovering Drupal
Bikino's start with Drupal began commonly enough; through his job. Like many small teams, staff get mixed roles and he inherited the website role. His experience grew from there. In 2016 he had the opportunity to attend DrupalCon New Orleans via scholarship through the Drupal Association. This let him discover the global opportunities and connections that open source software and the Drupal community can provide.
"My interest [in going to DrupalCon New Orleans] was to learn how thousands of people can just work together to deliver one single platform, how it works, and how people can really do it as volunteering work and through contributions. [The experience left me feeling that] I could really share that culture and community with young Rwandan people… and how they can love what they are doing this much. That's where my inspiration came from."
Bikino says technology offers more than just jobs, it provides local activities, ways to collaborate, and a chance to build knowledge. He plans to create a platform for the Rwanda Drupal community to share skills, projects, opportunities and experience.
Moving Forward
The local support for the Drupal Global Training Day is a sign of changing times in Rwanda. Those attending the training are educated, but there can be a lack of connection between what they are learning in school and the outside market. Bikino wants to connect those gaps by creating opportunities to learn, build, and develop. Like many countries across the globe, the Rwandan government sees technology as a way to build economic diversity, nurture jobs, and transform the country.
Local Projects
The Rwanda Information and Communication Association (RICTA) and partners launched The 1K Websites project, to promote Local Content Hosting. For now most of the websites made are Government, but they are expanding the project. With good internet infrastructure already in place, this is the start of local content creation and websites for business and community..
Diversity in the community is going to be a challenge, but Bikino realises it's an important one. The Sustainable Development Goals 5 is "achieve gender equality and empower women and girls", and access to technology in developing countries such as Rwanda is important for sustainability. Bikino is actively working with kLab management to find funds to develop opportunities for women in technology.
The Future
The last group of the 388 people have just gone through their training. The aim now is to develop local freelancers, do projects within the community, and find mentors to share tips, guidance and best practices. The group would even like to contribute to translating Drupal into the local language (Kinyarwanda). And of course one day, host an African DrupalCon.
Peel away the layers of an impressive attendance to a Drupal Global Training Day event, and you have a story about the potential for technology and Drupal to transform people, communities and industry.
You can follow and connect with Bikino via Twitter or say hi to him in the Drupal Slack. Bikino is the Deputy Director for ICT in Education Projects with FHI 360.
Next Spotlight?
Our next spotlight will be Fatima Sarah Khalid who you may recognise as @sugaroverflow. To those watching DrupalConEu from twitter it looked like no one had more fun than her! Fatima is going to be interviewed by Nikki Stevens who you may recognise as @drnikki. We think it's going to be very cool.
We are also going to have our new Drupal Spotlight site up very soon. If you see Chandeep having too much fun at Drupal events around Europe tell him to get home and finish the site install – we have big ideas!