July 14th, 2021
Every summer my family spends a week at a lake house, boating, barbecuing, and reading books. My wife and I each choose a few books to share in our family library and read them at the same time on our devices. It gives us a chance to introduce each other to new genres and authors. I typically read thrillers and sci-fi, while my wife prefers a  mix of literary fiction and celebrity memoirs.
This year, we used the Google Play Books Android app's new features to discover and organize our vacation reading list. Here's how we're using Google Play Books for our very informal summer book club:
Customize your bookshelves
One top request from Play Books readers was for customizable shelves.  With custom shelves, you can organize and sort your books into themed collections.  We made a shelf for our must-read ebooks for "Summer 2021."  You can also designate your "All-time favorites" so you always have a list of recommendations ready. Create a "Family listening" shelf for the audiobooks you're saving for a family road trip. Custom shelves make it easy to find the right book at the right time.
Use filters to find your ideal read
Readers also told us that they wanted an easy way to find titles for specific reading needs. Now you can browse by filters like language (to find titles written in a specific language), price range (to see books in your budget), and price drop (to see discounted books).
Find deals on the books you want to read
Customized discount notifications in the Android app now help you find more deals. If you sample or wishlist a book, you'll receive an email if that title is discounted in the future (just make sure you've opted into marketing emails from Google Play). Take advantage of this feature by wishlisting the titles that interest you when you come across them in the Play Books app.
With custom shelves, store filtering, and deal alerts, you have even more ways to find your next great read on Google Play Books. To get you started, here's our "Summer 2021" shelf: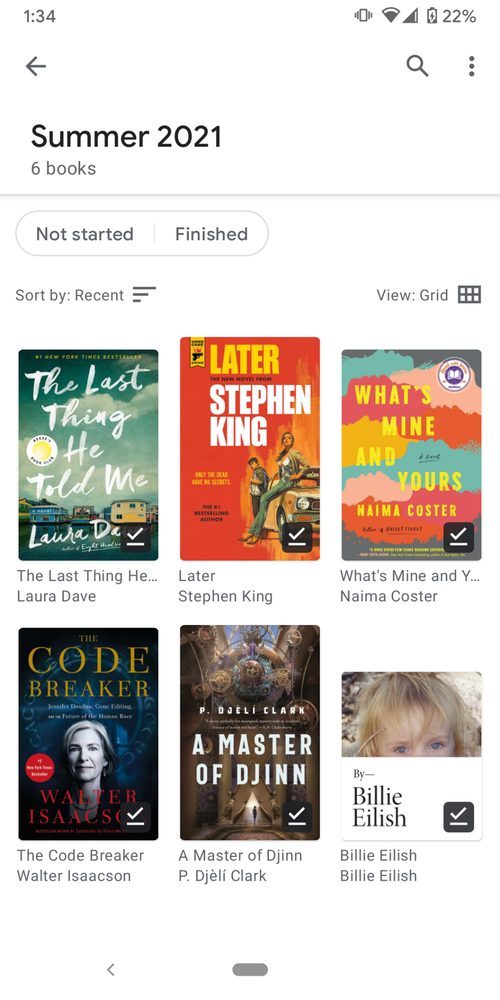 Hopefully, that gives you a little inspiration in creating your own. Here's to a well-read summer.