July 3rd, 2019
Hot dog! It's BBQ season. If the increasing number of dads in aprons and bucket hats doesn't give it away, an uptick in Google searches for "sauce" certainly has. We just couldn't keep this information bottled up, so let's ketchup on the uniquely searched sauces that reveal each state's taste for BBQ. Here's what the U.S. is relishing this summer.
Keeping tradition alive
Barbecue is America's summertime fuel—it's what gives us the energy to swim all day and stay awake for fireworks at night. And when it comes down to it, basic BBQ is delicious on its own without the bells and whistles. More than 30 percent of states agreed by opting for traditional barbecue sauce recipes—and 13 of those states were willing to go the extra mile by preparing homemade concoctions, searching for "homemade bbq sauce" the most. As my mother would say, "if it ain't broke, don't fix it."
Fixin' to eat
Speaking of tradition, everyone knows that southerners take their barbecue seriously—and have a serious sense of pride. Nearly 25 percent of U.S. states searched for "white" barbecue sauce recipes, also known as Alabama white sauce. You know what they say, mayo for dayos. But six states (and DC) preferred what's known as Carolina sauce, including the Carolinas (naturally), where they're just searching for "vinegar sauce."
Shaking it up
Some states are bored with standard barbecue sauces and are looking to mix things up. Take Colorado and Minnesota, who are hankering for korean-style sauce. Folks in Florida are craving tropical, guava flavor. Our New Jersey friends are in the market for more meat (how much bacon is too much bacon?). And in Illinois, some families are looking to spike, oops, I mean spice up their barbecue by adding bourbon. But the award for the most original barbecue sauce flavor goes to Hawaii, where … get this … they've been searching for "Hawaiian" bbq sauce.
Slim pickings
While many are looking for a new flavor this year, a good chunk of the U.S. will be passing on the potato salad and opting for healthy options around the grill with searches for diet-friendly recipes. Here are the highlights: Iowa and Texas are looking for sugar-free alternatives, while folks in Arizona, Michigan, Missouri, Oregon, Washington and Virginia are on the Hunt('s) for keto-friendly sauces. New Hampshire and Nebraska are cutting back by finding "low carb" options, while Massachusetts is taking it one step further by searching for "calorie free." Uh, good luck there, MA.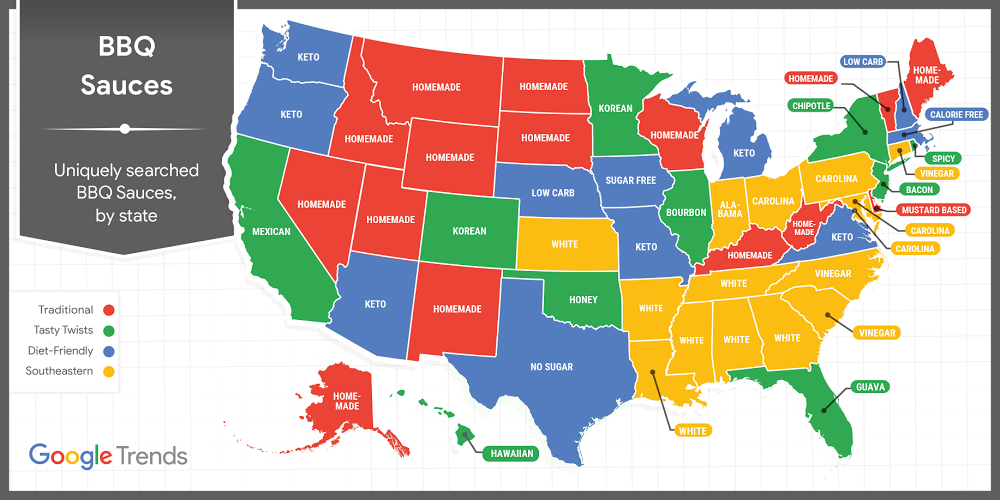 So for anyone who's standing over the grill this week, wondering what to slather on: there is no right answer, just freedom to choose from a vast array of options.