December 12th, 2016
Earlier this year, I talked about The Drupal Association stepping further into its mission to better promote Drupal through its channels – especially via Drupal.org. With 20 million unique visitors annually, Drupal.org is a powerful tool to help evaluators move through their Drupal adoption journey. However, our research showed that technical evaluators didn't find the information they needed and they ultimately left the site to find Drupal information elsewhere.
It was a real missed opportunity that we wanted to solve for. Not only is it our mission to promote Drupal, but helping Drupal businesses thrive is important. Knowing that 69% of code contribution is sponsored by Drupal businesses, it's imperative that our business community is strong and able to continually support our contributors.
The Association is in a unique position to help these evaluators get inspired and informed about Drupal and to quickly connect them to service provider experts, who can show them how to use Drupal to solve their business challenges. That is why we turned the Drupal.org front page into a Drupal marketing section, giving it new design, copy, and calls to action for visitors to learn more about Drupal 8 and how to Try Drupal. We will continue to iterate the copy, case studies, and call to action on this page and subpages throughout 2017.
The Power of Drupal By Industry
Our next iteration will be the addition of industry vertical pages, which highlight the power of Drupal solutions for various industries.
Each page will explain the impact that Drupal solutions made for well known brands in each industry. The pages will also connect the visitor to an industry expert – a Drupal service provider – who can answer their questions and ultimately build their Drupal solution. Plus, each page highlights featured third-party technology and hosting companies who add value to a Drupal solution.
Our first three industry pages will be for the higher education, government, and the media/entertainment industry verticals. They will launch in Q1 2017.
Here is a work-in-progress mockup of the Higher Education Industry Page.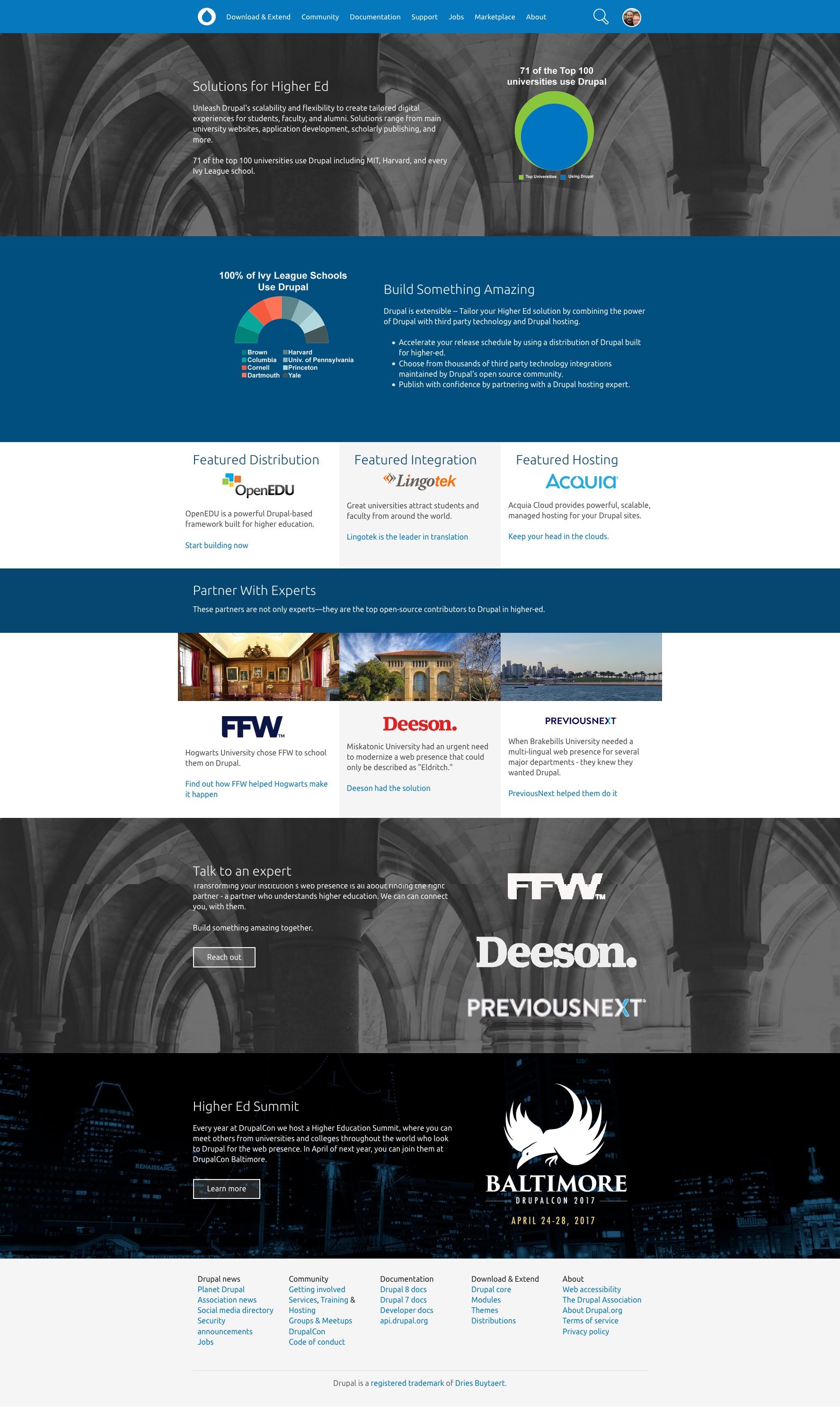 Sponsors with a history of contribution
As you can see, we only highlight three service providers on each industry page. Naturally we have a global network of experts who we can highlight. So how do we decide who gets promoted on these pages?
While working with the Drupal Association Board, we decided that it is important to continually reward the businesses who contribute back to the Project.
Contribution comes in the form of time, talent, and treasure. We looked at these three categories and decided to rank companies by the issue credits they earned over the last 90 days, what level they are in the Drupal Supporting Partner Program, and how many years they were Supporters. We are using this contribution ranking to invite the top service providers to sponsor the page.
We are also using geo-targeting on each page, showcasing service providers who serve the region that the visitor is located in. That means that each page will highlight three service providers who offer services in the Americas, EMEA, and AP Australia/NZ. This allows us to expand the number of organizations to participate in this program.
Of course, the visitor can still find all of the other amazing Drupal businesses in our ecosystem by going to the marketplace, which can be filtered by industry verticals as well.
We are excited to push our mission work forward on several fronts from promoting Drupal to rewarding contributing organizations. As we launch this program, we want to thank the Drupal Association Board, Acquia, FFW, Lullabot, MediaCurrent, and Phase2 for providing input into the process.