February 26th, 2018
In 2017 we saw the passing of J-P, community friend, mentor, leader, and contributor. Within the community J-P's was known for his passions: Drupal, programming culture, gardening, cycling and the environment. We invited people to share their memories of J-P and his impact; we share them with you now in memoriam. This is a moving tribute and a celebration of his life.
We invite you to also share your tributes in the comments section.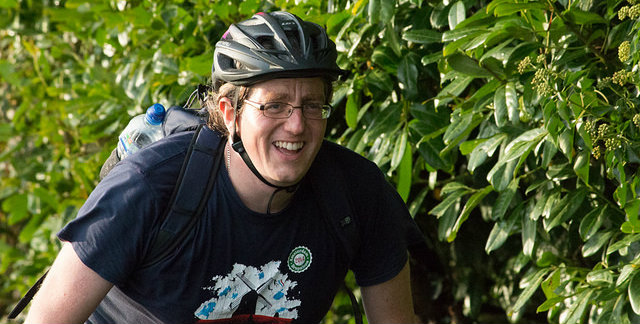 J-P Stacey on the Tour de Drupal 2016 Photo by Christian Ziegler
The person
J-P was a bright intelligent, quirky chap, ADORED animals, he would melt at the mention of our pets names, he would happily spend hours cooing over stories of his beloved cat Indie, he'd oblige you in hours and hours of stories about your beloved animals – kae76
---
Whenever I was with JP he was always smiling. He was always there to help and it was always a pleasure to see JP at Drupal events and chat to him on IRC – aburrows
---
Nice. My overriding memory of J-P is how nice he was. When he moved up to Sheffield and started attending the Yorkshire meetups he fitted right in straight away. He always found time to ask how people were doing and genuinely cared what they were saying. He was always patient, positive and happy to help others – kmbremner
---
I remember first meeting J-P at DrupalCamp Oxford in 2012, when I had just started out running a small business and I remember thinking how much of a mad professor he looked, and discussing different parts of Oxford with him. The last time I saw J-P was sharing a meal with at DrupalCamp London 2017 near Euston. Both times J-P was actively seeking to engage people from the edges of the community (all the other Drupalists at the meal were freelancers or small businesses) and I know that was something he was highly instrumental at working with. I actually went back to that restaurant recently, and it seems slightly strange that I won't see J-P at another event – willhallonline
---
J-P being present just simply makes you happy, such an open genuine chap. Always disappointment around if he can't attend a catch-up, and anticipation if you know he will be there. J-P, always the gentleman, honoured my poor jokes with a titter or a laugh, even if it first met with an understandable groan – waako

---
I knew J-P, in that we participated together every year as mentors at the Friday Core Sprints at Drupalcon. Last year at Drupalcon Dublin, I asked J-P to be my "mentor mentor" because I was so impressed by his gentle and unruffled style. He organized the team at his table with exemplary grace and good humour. I was particularly struck by how quickly he gathered a group of enthusiastic people around him. Bye J-P, it was a true honour to have known you, if only once a year, in this particular context – michaellenahan
---
He was *always* cheerful! – greg.harvey
---
JP always took the time to talk to people and explain things to people who needed help. It's safe to say that helping people was a passion for JP – Ikit-claw
---
I recall the Friday evening of Drupalcamp London 2017, J-P and I met at Old Street Station and travelled to Kings Cross to meet up with fellow Drupalists for a meal at the Diwana Bhel Poori house for a meal. The trip and the hour long wait there for the rest to join us was filled with fun and interesting conversation. We realised how much we had in common and made each other laugh. That plus stimulating conversation over great food I will remember for a long while – TechnoTim2010
---
The thing I will always remember best about J-P his determination to stick to his principles; be they in code, in process, in environmental matters or even his house and garden! It was so sweet on occasion to see him struggle when pragmatism meant they couldn't always be followed but it constantly reminded me to try harder myself. I miss J-P but I know I'll be a better person for knowing him and looking up to him – rachel_norfolk

---
I met him via tour de drupal Amsterdam and Barcelona. J-P was cycling a long way alone, Criz and I would cycle the Pyrenees for 2 days and then we met for the final leg to Barcelona and had a really good time. I didn't get to know Stacey too much but felt he was a very calm, positive, free person – dasjo
---
Working on a project with J-P with him as lead developer and me acting as project manager, what I loved was the fact he would always push back on every story, but as we chatted about options, he'd end up getting excited and committing to even more than I expected to get in the first place – stevecowie
---
J-P was a brilliant companion on various Tour de Drupal cycle rides from the UK to wherever Drupalcon was being held. His great sense of humour, adventure and unflappable flexibility made him an excellent person to cycle with, and he was great at drawing people in, involving them and making everyone feel at ease. These same characteristics made him great fun to be around at a conference; I remember the "I'll do it if you will" approach that got us into talking at a Drupal unconference, with just a few minutes' notice in his case. He cared about others, and his strong sense of fairness and inclusion as well as pragmatism were of great value when there were difficult decisions to be made – martin_q
---
JP was involved with the modern web development apprentices (a.k.a. Drupal apprentices) programme in the UK. The last time I met JP was shortly before his holiday trip to Spain. We were scoping out some training days for the apprentices programme, as budget had become available to run 1-day topic-focussed trainings with external specialists. He was looking forward to training apprentices on test-driven development after his holiday – andrewmacpherson
---

#drupal #sprintweekend Sheffield 2016 Shared on twitter by @rivimey
The Drupaller & mentor
I was aware how deeply knowledgeable he was, and his ability to make that knowledge accessible to others, and his nature to always hear others out, always assuming he hadn't got the answer. He wasn't shy to press someone about a topic which he believed was being overlooked, or underrepresented – kae76

---
He was excellent at explaining and helping others – aburrows
---
I remember J-P presenting about Drush Make at DrupalCamp North West 2013. It really opened my eyes to how there was a more efficient way of doing things than I had known before. Years later he was a strong advocate for Composer evangelising the benefits to the local community and beyond – kmbremner
---
The thing I will remember most about J-P was his passion around open-source software. He was committed to Drupal and passionate about the community. It always seemed that he really cared about the *little* guy. The person starting up, or the newcomer to the community – willhallonline
---
He was always interested in problem solving, beyond that he was interested in understanding the problem, not solving it for you. He could explain code, like super-intelligent physics jokes, in the most clear manner and help you find direction. He would ask all the right questions about what you needed to achieve – waako
---
He totally "got" contrib, always looking for the pragmatic solution, always looking to use and/or improve existing code – greg.harvey
---
JP would take the time to help people learn code and point them in the right direction you could take to him on slack or irc and he would take the time to help you – Ikit-claw

---
J-P was always willing, if he had time, to help with any coding issues on IRC. He was busy much of the time. I would loved to have collaborated on a project with him, sadly never to be – TechnoTim2010
---
I've learned so much from J-P's blog posts and always enjoyed our encounters at various events over the years. Highly technically competent and willing to spend time to share skills and knowledge, I saw J-P as part of the very fabric of what makes Drupal Drupal, the reason why I've hung around for so long – Steve Purkiss
---
Time. It didn't matter how long it took for J-P to work with someone until they understood something – he'd see it through – rachel_norfolk
---
J-P was the alternative to Drupal stack exchange – stevecowie
---
JP shared his own learning very freely. After D8 came out JP set about learning the new API – he published what he learned on his blog, and those are some of the best D8 tutorials I've seen. "Did JP figure this out yet?" was often my first question, before approaching the official docs – andrewmacpherson
---
The future: what would J-P would want us to remember?
J-P would want us to remember the people behind the code; to spend the time helping new members of the community and making them feel welcome. To have a beer and get to know each other on a personal level – kmbremner
---
Documentation! Joking aside … I honestly not sure how to answer this, fundamentally the J-P we all knew – cared about a lot of things, the environment, equal rights, good clean code, great clear documentation, meaningful social interactions and impact. But my everlasting memory is how much he held his family and friends in focussed concern – listening and hearing – sharing daft jokes and I personally honor him for his vulnerability he was an open book. This is the lesson I will learn and keep learning from J-P; listening and HEARING the ones you love, open honest vulnerability and there is never a bad time for a cat pun – kae76
---
Be kind to each other and get involved in the Drupal eco-system – aburrows
---
I think that the enduring message is that it is not about code. Code is far more ephemeral than community. People's enduring care for the Drupal community is what makes it powerful. And I feel that J-P knew that – willhallonline
---
He would want us to grow things, to experiment, cycle and to listen & engage with each other – waako

---
---
The planet – greg.harvey
---
I think he would want us to pay forward all the kind gestures he had done for others. If JP ever took the time to help you and see someone stuck who you could help I think he would want people to take 30 minutes to help someone else and encourage them – Ikit-claw
---
J-P was passionate about Drupal and would want us to share that passion, and help our fellow Drupalists. He was also passionate about Green issues and protecting and improving the environment, I am sure he would be happy I created a Drupal 8 site to support a campaign not to concrete over beautiful countryside, but instead push cycling and other non-destructive solutions –
We should consider our own green credentials and do anything we can for our local environment – TechnoTim2010

---
Learn, then teach – Steve Purkiss
---
His garden – rachel_norfolk
---
Go by your own pace – dasjo
---
---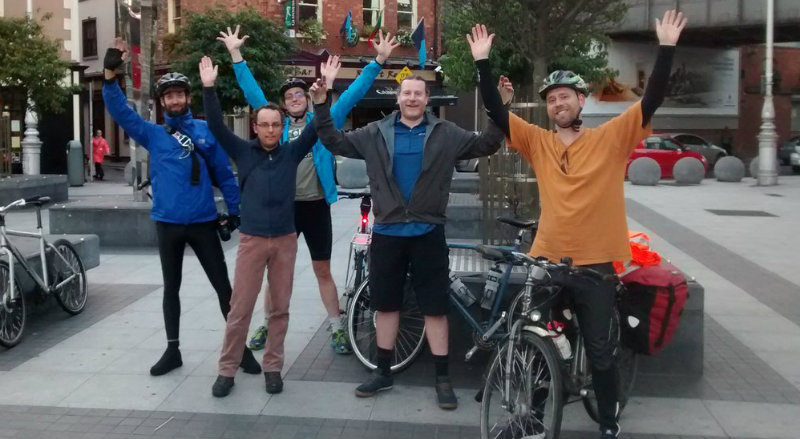 From left to right: Christian, Youri, J-P, Stephen, Martin (Photo by Conor Cahill)
Reflections on Tour de Drupal 2016
Shared by MegaChriz – An evening in Belfast
On a cold Friday evening in Belfast – late September 2016 – J-P, Martin and Stephen arranged to meet me and Christian at a small restaurant in town. The streets were empty – as if everybody was either out of town or at home. But the restaurant was full till the brim – there was no more room inside. J-P, Martin and Stephen were sitting outside on the terrace of the restaurant when I and Christian arrived, having a drink and presumably trying to ignore the cold. Despite the cold, we had to wait for a table to become free inside before we could order some food (outside the ordered food would become cold in minutes, maybe even in seconds). So we sat there for about an hour and still no one came out to make room for us.

The Five Bikers Staring to the Sea. From left to right: Youri, Christian, Stephen, J-P, Martin. (Photo by Martin Quested)