March 9th, 2017
Read our Roadmap to understand how this work falls into priorities set by the Drupal Association with direction and collaboration from the Board and community.
Drupal.org updates
Industry Pages Launched
After a great deal of preparation, user research, and content development we've launched the first three 'Drupal in your Industry' pages. These first three pages highlight the power of Drupal in Media and Publishing, Higher Education, and Government. Each of these pages uses geo-targeted content to reach audiences in: the Americas; Europe, the Middle East, and Africa; and the Asia Pacific, Australia and New Zealand regions.
These pages are targeted at evaluators of Drupal in these specific industries. From our research, we've found that these evaluators typically have Drupal on their short list of technology choices, but are not familiar with how a complete solution is built on Drupal, and they're eager to see success stories from their industry peers.
We'll be expanding on this initiative with additional industry pages as time goes on.
Project Application Revamp
In February we completed phases 1 and 2 of the Project Application Process Revamp. This has meant polishing up the security advisory coverage messages that are provided on project pages, adding a new field for vetted users to opt-in to advisory coverage for their projects, and adding security advisory coverage information to the updates xml served from Drupal.org. With these issues complete we'll be able to move forward with Phase 3 (opening the project promotion gates) and Phase 4 (improving code quality signals and incentivizing peer review) as we roll into March.
[Author's note] The project application revamp hit a major milestone in early March with the completion of Phase 3. Now, any user who has accepted the git terms of service may now promote sandbox projects to full projects with releases, and the application process has been re-purposed for vetting users who want the ability to opt into security advisory coverage for their projects. Look for more information in our upcoming March post.
2017 Community Elections are Live
On February 1 we opened self-nominations for one of the two community-at-large seats on the Drupal Association Board of Directors. At the time of this post, self-nominations have closed and now it's time to vote!.
Each year we make incremental improvements to the elections process. This year we've allowed each candidate to present a short 'statement of candidacy' video – and we've updated the ballot to allow easy drag-and-drop ranking of candidates.
Voting closes on March 18th, so make sure to vote soon!
Documentation polish, and new "call-out" templates
As the migration of content into the new documentation system continues, we've continued to polish and improve the tools. In February we made a few small improvements including: help text for maintainers and fixes for links to the discuss page in email notifications. We also made one large improvement: Call-out templates for highlighting warning information or version-specific notes within a documentation page. These templates are available using the CKEditor Templates button when editing any documentation page.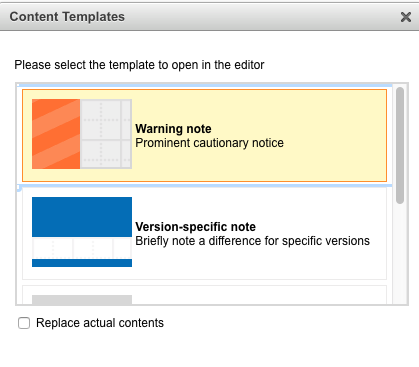 The documentation editor may select from the 'Warning note' template, which will highlight cautionary information in a visually distinct orange section on the page, or the 'Version-specific note' template, which allows users to highlight information that may only be relevant to a specific minor release of Drupal.
Here are two examples of what the call-outs will look like to a documentation reader.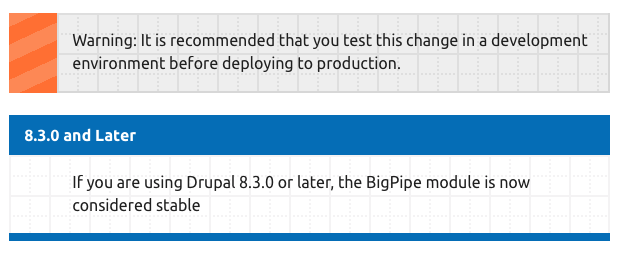 DrupalCI
Coding standards testing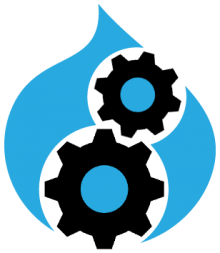 DrupalCI continues to accelerate the pace of Drupal development as we make the system more efficient and add new features. In February we enhanced the coding standards testing that was added DrupalCI in January. Using PHPCodeSniffer, ESlint, and CSSlint coding standards results are available in the test results' Build Artifacts directory, including automatically generated patches to fix found issues. We've also begun displaying summary information about coding standards testing on Drupal.org test results. Again we'd like to thank community contributor mile23 for his work on this feature.
More useful error output
We also made DrupalCI's error output more detailed, to make it more immediately clear to developers what the issue with a particular patch might be. Developers will now see messages on the test result bubbles, for example a 'patch failed to apply' error rather than a generic 'CI error' message.

Community Initiatives
Contrib Documentation Migration
We want to continue to encourage Project maintainers to create documentation guides on their projects using the new documentation content types. Maintainers can then migrate their old documentation content into these new guides, or create new documentation pages. For more information about this process, please consult our guide to contrib documentation.
Help port Dreditor features to Drupal.org
Are you a Drupal.org power user who relies on Dreditor? Markcarver is currently leading the charge to port Dreditor features to Drupal.org, and invites anyone interested in contributing to join him in #dreditor on freenode IRC or the Dreditor GitHub.
Infrastructure
Special note: Drupal Association seeks Infrastructure Services vendor
We'd also like to announce a Request for Information. The Drupal Association seeks an infrastructure services vendor to help us manage the underlying infrastructure that supports Drupal.org, our sub-sites, and the services we maintain. Our internal engineering team will continue to manage the sites and services themselves, while this vendor will help us with systems administration, virtual machine management, monitoring and pager responsibilities, disaster recovery, etc.
For more details about this request for information, please see our post on the Association blog.
———
As always, we'd like to say thanks to all the volunteers who work with us, and to the Drupal Association Supporters, who made it possible for us to work on these projects. If you would like to support our work as an individual or an organization, consider becoming a member of the Drupal Association. Follow us on Twitter for regular updates: @drupal_org, @drupal_infra