November 11th, 2016
Read our Roadmap to understand how this work falls into priorities set by the Drupal Association with direction and collaboration from the Board and community.
The Drupal Association team has been getting back to work after coming back from DrupalCon Dublin in September. For the engineering team, October has been focused on some back-end services and infrastructure that support the Drupal project, while we continue to move forward on some longer term front facing initiatives.
Drupal.org updates
Promoting Drupal by Industry
Last month we talked about the new homepage we released for Drupal.org, and using those editorial tools to build a membership campaign. We hinted that additional changes will be coming soon. While we're not ready to launch this new content – we can talk about it in some greater detail.
Dries Buytaert, the project founder, has called Drupal the platform for ambitious digital experiences. That phrase expresses the incredible power and flexibility of Drupal, but also encapsulates an aspect of Drupal that can be difficult for newcomers. It can be very hard for newcomers to Drupal to understand how to take a base install of Drupal core, and extend that to achieve that ambitious vision.
We want to help close that gap in understanding—to help evaluators see how Drupal achieves these ambitions. To do this, we'll be creating a series of landing pages that focus granularly on how Drupal creates success stories in particular industries. Look for more on this topic in coming months.
DrupalCon Vienna Site Launched
As is tradition, during the closing session of DrupalCon Dublin we announced that the next DrupalCon in Europe will be held in Vienna! We launched the splash page announcing the event at vienna2017.drupal.org and we have information about sponsorship and hotel reservations already available.
DrupalCon Vienna will happen from the 25th to 29th of September 2017, and we'll hope to see you there!
More flexible project testing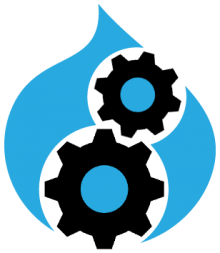 We've made a significant update to how tests are configured on the Automated Testing tab of any project hosted on Drupal.org. Automated testing, using the DrupalCI infrastructure, allows developers to ensure their code will be compatible with core, and with a variety of PHP versions and database environments. In October, we updated the configuration options for module maintainers.
Maintainers can now select a specific branch of core, a specific environment, and select whether to run the test once, daily, on commit, or for issues. Issues are limited to a single test configuration, to ensure that the code works in a single environment before being regression tested against multiple environments on on-commit or daily tests.
Better database replication and reliability
Behind the scenes, we've made some updates to our database cluster – part of our infrastructure standardization on Debian 8 environments managed in Puppet 4. We've made some improvements to replication and reliability – and while these changes are very much behind the scenes they should help maintain a reliable and performant Drupal.org.
Response to Critical Security Vulnerabilities
When it rains, it pours—a maxim we take to heart in Portland, Oregon—and that was especially true in the realm of security in October. The most widely known vulnerability disclosed was the 'DirtyCow' vulnerability in the Linux kernel. A flaw in the copy-on-write system of the Linux kernel made it possible, in principle, for an unprivileged user to elevate their own privileges.
Naturally, responding to this vulnerability was a high priority in October, but DirtyCow was not the only vulnerability disclosed, as security releases were also made for PHP, mariadb, tar, libxslt, and curl. We mitigated each of these vulnerabilities in short order.
Community Initiatives
Community initiatives are a collaboration; with dedicated community volunteers building improvements to Drupal.org with the architectural guidance and oversight of the Drupal Association engineering team.
Drupal 8 User Guide
The Drupal 8 User Guide is getting very close to being available on Drupal.org. We are working closely with contributor jhodgdon to resolve some perplexing inconsistencies between what we're seeing in our development environment and in our initial production deployment.
Dreditor
markcarver who is currently leading the charge to port Dreditor features to Drupal.org, has invited anyone interested in contributing to join him in #dreditor on freenode IRC or the Dreditor GitHub issue queue.
Documentation Maintainership
Finally, we want to continue to encourage the community to become maintainers of Drupal documentation. If you are a developer interested in contributing code to the new documentation system, please contact tvn.
———
As always, we'd like to say thanks to all the volunteers who work with us, and to the Drupal Association Supporters, who made it possible for us to work on these projects.
If you would like to support our work as an individual or an organization, consider becoming a member of the Drupal Association.
Follow us on Twitter for regular updates: @drupal_org, @drupal_infra