October 20th, 2016
Read our Roadmap to understand how this work falls into priorities set by the Drupal Association with direction and collaboration from the Board and community.
This month's update comes to you a couple weeks late, but only because we were on site at DrupalCon together with the community to move the project forward! DrupalCon Dublin was a great event, with the entire Drupal Association staff engaged to make DrupalCon the best place to develop your Drupal skills, learn what's coming for the project, and sprint on core and contrib. We are tremendously thankful to the community that joins us for DrupalCon, and to the incredible volunteers that help us put on the event. If you couldn't join us in person, you can still review the session recordings.
Now, on to the updates!
Drupal.org updates
New homepage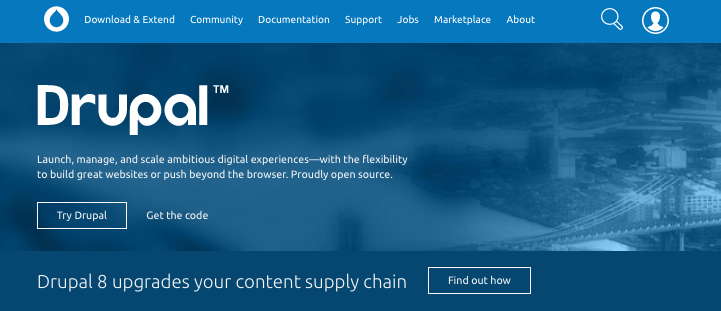 Certainly the most visible change to Drupal.org in September was the refresh of our home page. As the front door of our community home, the front page needs to be inviting to both existing community members, and people new to Drupal who are just beginning their adoption journey. The changes are more than aesthetic. We also put in place new editorial tools to give us greater flexibility with the front page itself, and with future landing pages that we hope to create in the same highly-designed, attractive style. In addition to these structural and editorial changes we made some content changes as well, cleaning up our news feed, and giving DrupalCon a new, more prominent position on the home page.
And there are more updates to come! Using the same editorial tools we'll soon be rolling out additional content for Drupal evaluators – promoting proven solutions built using Drupal in specific industries. Look forward to this in the coming months.
Membership campaign
We used the same editorial tools that built the new homepage to build a landing page for our fall membership campaign. This campaign showcases how Drupal Association members make community cultivation grants possible – and the stories that those grants create.


These community stories run to the heart of our mission – enabling our global community build connections on the local level, and extending Drupal's reach across the world.
Case studies on organization profiles
In September we also made a small but significant update to organization profiles. We've moved the often unwieldy index of people associated with an organization to a subpage, in order to make room for listing the case studies that an organization has created. We want to encourage Drupal organizations of all kinds to share their stories of success, especially around Drupal 8.
If your organization has never created a Drupal case study before, we have some materials to teach you how to create a case study on Drupal.org.
Issue Credit Updates
The issue credit system has had a remarkable impact on the community. Being able to quantify the contribution of organizations to Drupal's codebase has lead to an unprecedented level of healthy competition between organizations who support the project—each trying to outdo the other with their contributions. It has been amazing to see how generous these organizations are, sponsoring the work of committed community contributors to advance the project.
To maintain this system in a healthy way, we need to monitor it carefully and make small adjustments to ensure that we're creating the right incentives for true contribution, and not a system to be gained for self-promotion. We've made a few small tweaks in september to reduce spurious re-opening of issues in order to 'reset the clock' on credits, and we have a few more fixes on the plate to keep this ecosystem healthy.
We're also looking to expand the kinds of activities that receive contribution credit – so look forward to further updates on that front in the coming months.
Community Initiatives
Finally, here are some updates on our active community initiatives. Community initiatives are a collaboration; with dedicated community volunteers building improvements to Drupal.org with the architectural guidance and oversight of the Drupal Association engineering team.
Documentation Migration
The migration of Drupal.org documentation to the new documentation content types is well under way. Tremendous thanks to tvn and eojthebrave for spearheading this effort and recruiting additional volunteers to help maintain the new documentation guides and move the community over into the new system.
We still need your help! We need community volunteers to take on small sub-sets of documentation to maintain, and make sure they're cleaned up post-migration.
If you don't want to commit to maintaining a guide, you can still help out by doing some of the pending tasks for any of the documentation pages.
Lastly, if any Drupal developers are interested in contributing code to the new documentation system to clean up a few minor bugs and features, please contact tvn.
Drupal 8 User Guide
As outlined in our previous update, the Drupal 8 User guide is a special subset of documentation that's been produced in a highly curated, editorially controlled way – to create a guide to Drupal 8 that rivals the standards of an industry publication. All of the components needed to publish this guide to Drupal.org are now in place, so our final step will be to coordinate some last tweaks and bug fixes with jhodgdon, and then to begin linking it prominently on Drupal.org.
Dreditor
In the weeks leading up to DrupalCon Dublin there was a small crisis in the contributor community. Because of changes in the browser add-on validation process, the incredibly valuable and popular Dreditor browser extension, first developed by sun, and currently maintained by markcarver, andcottser has reached its end of life—or has it?
After a tremendous outpouring from the community a new plan was made, and now Mark is working on porting the features of Dreditor directly to Drupal.org. Work is still ongoing, but as it proceeds, users will be able to optionally enable these features component by component on their user profiles.
———
As always, we'd like to say thanks to all the volunteers who work with us, and to the Drupal Association Supporters, who made it possible for us to work on these projects.
If you would like to support our work as an individual or an organization, consider becoming a member of the Drupal Association.
Follow us on Twitter for regular updates: @drupal_org, @drupal_infra